Many IT Support companies have to work to strict SLA (Service Level Agreement), so the system can be set to work out when the SLA response time is nearing, and when the SLA fix time is nearing with colours alerting you to how close you are to the SLA times.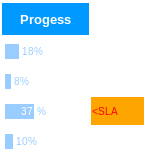 Only the IT Support providers staff can see these coloured case markers (see this example right) on the cases main listing screen.  SLA Warnings show in orange before a SLA is missed and red after a SLA is missed.  You can have the system alert your support department as the response SLA's as well as the fix SLA times are nearing by either email (or SMS in the Enterprise version).
Case Centre Pro can be set up to email you (or SMS Text you) when a user adds a new case to the system, enabling you to quickly dispatch remote field service engineers to site if necessary in good time.