In addition to all the features of Case Centre Pro Lite, Case Centre Pro Professional has these additional features and benefits…
Feature List
Up to 1,000 customers
Unlimited users

Built-in reporting

Existing website integration

Secure User Chat

SMS text messaging
Built-in Performance Reporting
There are a small array of standard basic reports in order to obtain key metrics from the cases within the case management system database. We can expand these upon request.
As another example to the one above, here is one for a fictitious IT Support business. In this example, key metric reports from a demo Case Centre Pro for IT Support version, clearly show how well our fictitious IT service provider is performing compared to their SLA (Service Level Agreement). From the report, we can see that one case too over 96 hours to complete, and an internal investigation can then work out what went wrong from the case history, and revised procedures put in place to improve service performance, and customer care. This level of reporting is built in as standard.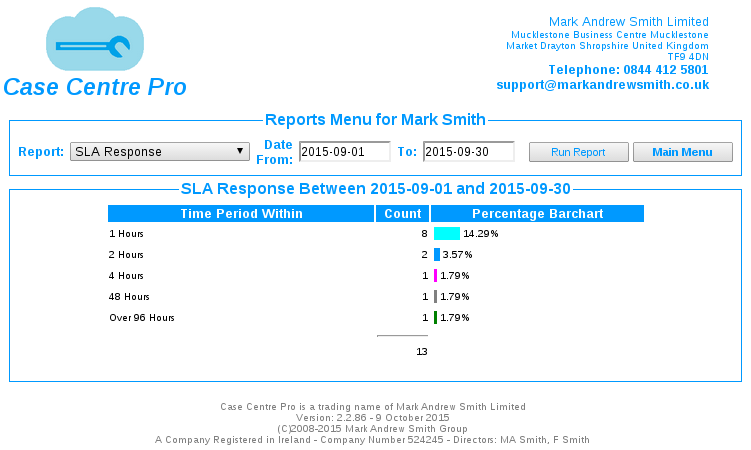 The standard reports included are:
Number of cases by client
Number of cases by user
Overview by priority
Overview by status
SLA Response
SLA Fix
Website Integration
We have a number of ways that we can integrate our system into your existing website.  From simply implementing a contact form, or perhaps problem form, or to even directly populating the Case Centre Pro case management database.  This is very useful in a B2C environment and typically generates more quality work.  Website integration is free.
Consider for example.  Mrs Jones wants her chimney swept.  It is known that customers who can see availability and able to complete a booking are more likely to do so there and then giving an advantage over the competition.  So, if Mrs Jones can see that there is an appointment time available on Saturday afternoon at 2pm with Ash Away Limited (the local fictitious chimney sweep), and she can complete the booking and pay for it online, then the sale is likely to be made there and then.  The advantages for Ash Away Limited are two fold.  Firstly, as a small business, the payment has already been taken helping cash flow.  Secondly, having already paid for the service, Mrs Jones is not likely to have forgotten about the appointment and be out, so no lost appointments.  The system can even be setup to remind Mrs Jones just before the appointment that the sweep is on his/her way, prompting Mrs Jones to be in.  Additionally, the system can be setup to invite Mrs Jones in 12 months time to re-book her next appointment and share her experience on social media.
So, for the fictitious Ash Away Limited, better cash flow, a reduction in missed appointments, better efficiency, better customer care, and repeat business and free social media promotion.  We hope that you can see a similar analegy for your own business.
Secure User Chat
Case Centre Pro includes a secure user chat over HTTPS allowing you to chat in real time with a number of users and to record what was said against the case number.
SMS Text Messaging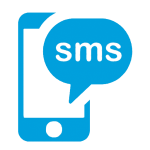 With an appointment arranged with the customer to visit, not all smaller customers have email to send them a reminder, or some may have spam filters, and so do not recieve the reminder email of an intended visit.   With this version of Case Centre Pro, you can send them a SMS text message to let them know in advanced of the appointment.  Another purpose could be when their email system or main phone system is unavailable, then they can still be informed, as the message can be still be sent and recorded in the case history.
Upgrades
You can upgrade Case Centre Pro at any time you like as your business grows.  Compare versions to see what is right for you and your business.