Case Centre Pro Demo is our entry level edition which has the following key features so that you can get started with a trial with the minimum of fuss, outlay and no monthly cost.  There is a time limit of the end of the month, however, you can always change versions any time you like as your business grows or you need additional features.
Feature List
Up to 10 customers
Free Unlimited

users

Free Unlimited

customer access

Built in Case Management System

Built in CRM database

Mobile App Version

Secure clustered cloud hosting

Secure off-site data backup
Built in CRM Database
All versions of Case Centre Pro have at their heart a CRM (Customer Relationship Management) database to identify the user, customer, job, task, addresses, contact information as well as a comprehensive case history.  As everything is recorded, it means that finding information later is easy enabling resolutions of similar tasks that much easier.
Mobile App Version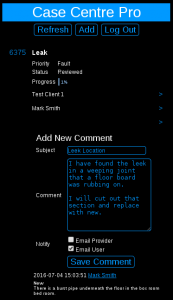 Case Centre Pro optimised for staff working remotely in the field, enabling them to get details of the user/consumer and the ability to keep the case and your customer up to date at all times.
The mobile version using an invert colour theme to enable extended battery life during the day of a busy remote user.
The mobile app version works with any iPhone, Android, Windows phones, PC's Mac and tablets so long as there is some access to the Internet.
Upgrades
You can upgrade Case Centre Pro at any time you like as your business grows.  Compare versions to see what is right for you and your business.  Sign up today…